I have three boxes with proxmox on them, and I was gearing up to cluster them, but without HA. I would like some of the conveniences (especially single interface), similar to this discussion:
https://www.reddit.com/r/Proxmox/comments/sgyosg/cluster_or_not/
However, I see a couple things on the proxmox cluster manager wiki page that give me pause, due to one of the boxes being in a different geographic location (remote backup target).
Could you please help me understand if I should still go ahead or not?
Concern #1:
Under the requirements it says "Date and time must be synchronized."
Well, one of the three boxes is in a different timezone. Is this a showstopper or is there a solution?
Would I have to change the time on the box in other timezone?
Concern #2:
Under Network Requirements it says "The Proxmox VE cluster stack requires a reliable network with latencies under 5 milliseconds (LAN performance) between all nodes to operate stably. While on setups with a small node count a network with higher latencies may work, this is not guaranteed and gets rather unlikely with more than three nodes and latencies above around 10 ms."
The remote backup target definitely doesn't meet this latency requirement, smokeping indicates 40~90 ms.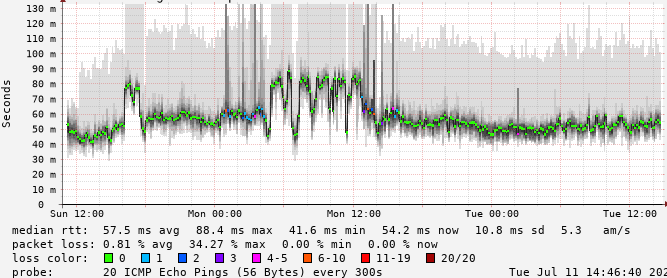 Is this a dealbreaker? Or does it not matter because I will not be using HA?